Villa Sgariglia: Welcome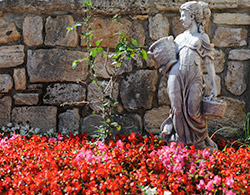 Amazing Villa in the Marche Region, plunged into the Piceno nature, Villa Sgariglia welcomes and invites You to discover it and to appreciate all its corners.
Renewed in 2001, Villa Sgariglia is today one of the most appreciated hotels in Ascoli Piceno, from which the Villa is only 8 kilometers far , but is also well known for its excellent cooking and for its staff, very professional: two points that make Villa Sgariglia a very appreciated restaurant for ceremonies of this area.
Furnished with a well finished park, elegant and charming, in a strategic position, on one of the hills that surround Ascoli Piceno, Villa Sgariglia will be the perfect solution for You, who are looking for a location where to celebrate an important event such as a wedding or if You want to spend a relaxing holiday, in touch with nature, in the Marche Region.