Restaurant - Welcome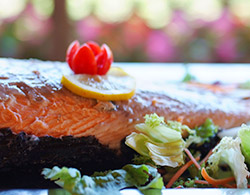 Sober and elegant, "I Mille Sapori" restaurant, at the ground floor of one of the most beautiful Villas in the Marche, is perfect for weddings, ceremonies and business events: You will love it thanks to dishes that comes from the best cooking from the Marche Region and that will be proposed in an original way.
Our hospitality, the quality of our tastes, the kindness of all the staff will make every occasion really special.
The cooking from the Piceno has as its strong point the genuine and simply taste of the olive oil. Among the specialties that our Restaurant proposes there is a variety of fried vegetables, typical of Ascoli, and the well known fried filled olives, Campofilone "tagliolini" (a kind of home made pasta), the rabbit stew and roasted turkey. All dishes that are once more enhanced thanks to local truffles and mushrooms.
And do not forget the wines from the Piceno, that have gained a level of quality so they are more often appreciated in all Italy, such as the Rosso Piceno, the Rosso Piceno Superiore and the white Falerio dei Colli Ascolani wines.
All year open, "I Mille Sapori" restaurant in Villa Sgariglia is only closed on Mondays.
Come to visit us to live a tasty experience: we are waiting for You!